Pinball Flyers For Sale
electromechanical = em

All pinball flyers listed on this page are originals and for sale.
The webadress is not present on the actual flyer!
Prices below each flyer.
Currency converter HERE
H = Punch holes / C = Trimmed / F = Folded / W = Wrinkled
Trades for pinballflyers missing in my collection are welcome.
In yellow = Latest update
Bally
Big Show, HF. € 6.00
Dixieland, F. € 10.00
El Toro, HF. € 6.00
Freedom, F. € 8.00

Hootenanny, HF. € 8.00

MiniZag, F. € 10.00

On Beam, F. € 8.00
Quarterback, HF. € 6.00
Chicago Coin

Hee-Haw. € 8.00
Super Star, H. € 6.00
Gottlieb
Big Indian, F. € 6.00

Bronco, F. € 6.00
Card Whiz. € 8.00
Far Out. € 8.00
Fast Draw. € 8.00

Hot Shot. € 8.00

Jack In The Box, C. € 3.00

Jet Spin, F. € 6.00

Jungle Queen, HF. € 6.00
Magnotron. € 8.00

Mini Cycle, C. € 3.00

Orbit, C. € 3.00
Sheriff, C. € 3.00

Skipper. € 10.00

Sky Jump, H. € 6.00

Snow Queen. € 8.00

Spirit Of '76. € 8.00
Super Soccer, F. € 8.00

Surf Champ, F. € 6.00
Texan, HF, € 8.00

Top Score. € 8.00

Vulcan, F. € 8.00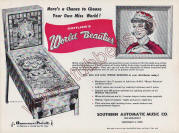 World Beauties, F. € 10.00
Williams

Argosy. € 8.00

Aztec, HF. € 6.00
Big Deal (1977), F. € 6.00
Friendship "7", HF. € 8.00
Jackpot, C. € 3.00

Jubilee, F. € 6.00
Kickoff, W. € 5.00

King Pin, H. € 8.00

Liberty Bell, H. € 6.00
Magic City, HF. 6.00

Riverboat, HF. € 8.00

Skill Pool, H. € 8.00

Stardust, C. € 3.00

Strato-Flite. € 8.00
Turf Champ, HF. € 8.00
Zaccaria

Universe, H. € 6.00